GRC ONLINE DIGITAL CARE GROUP #1
Let's Talk about Hazon Vision
Join our Pastoral Overseer, Pastor Darren Sim, and Online Campus Pastor, Pastor Josh Holohan, as they unpack this year's theme of the year: Hazon Vision.
Why is hazon vision so important and how can it help you in your daily life? How can you tell if your hazon vision is from God? Grab your Bible and journal and join the discussion as our Pastors break down all these and more. Feel free to take part in the digital care group session on your own or together with friends and family!
This session is based on the messages:
Joseph Prince—The Year of Hazon Vision (3 Jan 2021) [Sermon Notes]
Joseph Prince—Position Yourself To See His Hazon Vision (10 Jan 2021) [Sermon Notes]
Questions about Hazon Vision
For this digital care group session on Hazon Vision, we have received some questions from our members. Here are our thoughts on hazon vision that our team would like to share with you.
Is a hazon vision a literal picture from God that we see inside our mind or a mental image pictured from Bible verses?

Are we supposed to believe for separate visions for the various areas of our life (relationships, finances, health, etc)?

Do we expect one hazon vision for the year or a series of visions?

Joel 2:28 says the male sees visions, while the female prophesy – does this mean that women don't see visions?
A hazon vision is a prophetic vision from God, or to put it very simply, it is seeing what God sees in your situation. Often, there is a great disparity between what you see in your life and what the Lord says about your situation. By putting your focus on God's hazon vision, you are allowing it to align your experience with what He has already promised in His Word. As you speak it forth, the vision in your heart will be manifested in your life!
Today, because Jesus has been glorified, we can be sure that the Holy Spirit (Who reveals God's hazon visions and dreams to us) has been given to us (see John 7:39). God has given all of us the ability to see His visions for our own lives (see Acts 2:17-18) and this is our rightful inheritance as children of God.
There are several ways a hazon vision can be received. At times, it may be in the form of a vision or symbol that comes to mind (see Hosea 12:10) as you actively ask God for His visions and pray in the Spirit (see Hab. 2:1). These symbols usually represent something, for example, God gave the apostle Peter a vision of many different animals and called them all clean, signifying that Peter should go to the Gentiles to preach to them for the Lord has called them clean (see Acts 10).
A hazon vision can also be received from the Word of God. The Bible is a picture book filled with many visions and pictures of what God has promised you in the various areas of your life, as well as your life overall. Whether it's in the area of marriage, family, career, or finances, among others, God has given you countless faith pictures in His Word to remind you of what He sees for your life.
As the Lord moves in your life and brings a particular hazon vision to pass, you can always ask Him for a fresh vision and follow His leading for the next step or season of your life!
How do we live/move forward with confidence to make the right life decisions in the absence of vision?
Before God does something good in your life, He first gives you a vision. He wants to fill your heart with faith pictures for your future! This is because to have hope is to have a positive expectation of good in the future, and we cannot have that without having a vision from the Lord. It is through these simple pictures that He will lead you to where you need to be.
Regardless of whether you have received a hazon vision for a particular issue or area of your life yet, the Lord leads you through the Holy Spirit, your Helper, and supplies the wisdom and direction that you need. He delights in you asking for wisdom and gives it to you liberally and without reproach (see James. 1:5).
As you seek the Lord's leading in your life, the Holy Spirit guides you with His peace. Let the peace from Christ act as umpire continually in your heart (see Col. 3:15 AMPC), giving you a green light or red light. His peace will keep you on the right track.
After seeking the Lord and weighing the pros and cons of your situation, it is always wise to consult godly counsel on your decision (see Prov. 13:20, Prov. 11:14). This counsel can be your pastors and leaders, or simply someone who knows you, your tendencies and blind spots, and who is willing to speak God's wisdom to you.
Lastly, the Holy Spirit will lead you as you take action. He testifies of and confirms God's Word in our spirit (see Rom. 8:16 AMP). However, He is only able to bear witness to something that has already happened. Hence, in order for the Spirit to bear witness (lead you), you need to take the first step. For example, if you are seeking a new job, send out applications and go for interviews. As you get a sense of the interviewer and the environment, you'll sense whether there is peace to accept the job or seek another opportunity.
Are a husband and wife supposed to see the same hazon vision?

How can we involve our children in hazon vision with us?
As a family or a body of Christ flows in the same Spirit and in love, they will always be in agreement and of one mind (see Phil. 2:1-2). The Holy Spirit speaks to us on the wavelength of peace (see John 14:26–27). Even if spouses or family members do not receive the exact same hazon vision, they will flow in unity as they follow the peace and leading of the Holy Spirit.
Seeking a hazon vision together as a family is a powerful and wonderful thing! As you seek God's faith pictures for your family members and meditate on the Word together, His love unites you as one (see Col. 3:14). When you come together in agreement and declare forth His Word, the Lord is in your midst and surely His hazon vision and promises will come to pass (see Matt. 18:20)!
One of the ways that you can talk about hazon vision as a family is to carry out the activity shared in the this digital care group together and list down the hazon visions that the Lord has given you. You can even draw the faith pictures with the accompanying scriptures, and place them around your house as a constant reminder of God's promises to you and your family. As you see each hazon vision being fulfilled, why not celebrate and thank the Lord as a family, reminding each other of His unfailing love and goodness?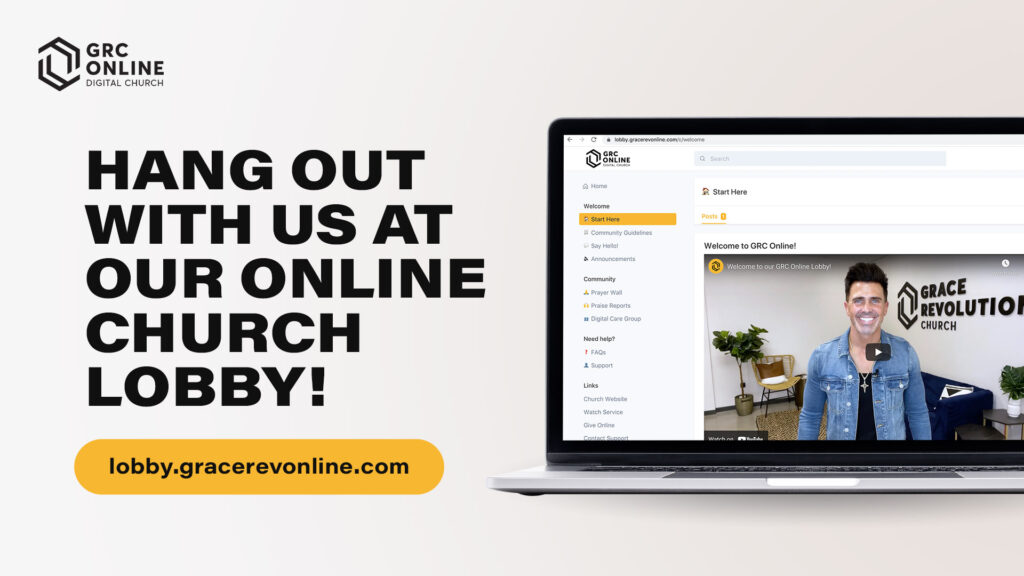 Check out our brand-new community platform where life, conversations, prayer and ministry occur! Interact with fellow grace believers and stay updated on what's happening here at church.
Comments from Facebook & Live Chats

Joyce E.
from our Facebook group
Yes! Thank you so much, Ps Darren Sim and Ps Josh Holohan, for having a digital care group session for us! It is so wonderful for you to reach out to all of us with timely teaching and prayer, and that we can chat real time through the chat! I look forward to future digital care group sessions, live or recorded. Thank you again, Praise the Lord, and the Lord bless you and Pastor Prince and all who make these things possible, in Jesus' wonderful name, Amen!

Emma L.
from our Facebook group
The digital care group is so awesome 👌, which answers my questions about Hazon Vision and gives me directions on focus on scripture based word picture and be led by peace.Thank you so much 💓 At the end Ps Josh prayed for aches and pains go after waking up. I received 3 times which was exactly for me because last whole week I got the symptoms and yesterday was the worst. Today I feel so much better. Praise God. Thank you Jesus for your healing is much more than sickness 🙏
Marc M.
from our live chat
I don't think there's anyone else on earth that is as dedicated and consistent as a teacher of righteousness as Pastor Prince! Been following since 2009! I love the gift of righteousness, Jesus Christ!
Pastors, I love what you two are doing! God bless you with a double portion of anointing as you carry out your pastoral call. I love, love, love Joseph Prince's forward vision of a virtual (online) church long before the pandemic hit us! That man truly listens to God's heart! How I thank God for Joseph Prince! and for mentoring other men like you, multiplying himself! Thank you so much for clarifying how we are to go about catching the vision of God, thus changing our earthward vision.
kinney5
from our live chat
Pastor Josh you called out EVERYTHING I've been going through. 🙌 Thank you both! I receive your prayers and blessings. Please keep this group going!!! 💗