GRC ONLINE DIGITAL CARE GROUP #5
Main idea
In this care group session, join our GRCO pastor, Pastor Josh Holohan, and his wife, Lindsay Holohan, as they talk more about the topic: Receiving God's Supply.
Take part in this digital care group session on your own or together with your friends and family. In this care group session, we also partook of the holy Communion together so be sure to grab your elements as we partake in remembrance of the Lord together.
Feel free to use this guide to follow the conversation with our pastors, use it for your own personal time of study, or to facilitate more conversations with your community.
1 Peter 5:7
Philippians 4:6–8 (AMPC)
Genesis 14:18 (AMPC)
1. God's supply flows unobstructed in the worry-free areas of your life
At the cross, Jesus paid the price for our healing, provision, and peace, and He paid for God's heavenly supply to flow into every area of our lives.
Today, being under grace means being constantly under God's supply! But in the face of worry and our own attempts to manage whatever challenge or situation in our own strength, it can be hard to receive what God is already supplying.
What is one area in your life that you find really hard to not worry about?
See a picture of pliable pipes from heaven above you where the Lord is constantly supplying His grace to you. There is a pipe for healing, a pipe for provision, a pipe for relationships, a pipe for marriage, and so on.
When we strive, struggle, and worry about a situation, we're gripping the pipe tighter and that constricts the flow of God's supply into the different areas of our lives.
The reverse is true: The more we let go of our worries to the Lord, and start trusting Him in prayer, the more we're loosening our grip on the pipe, and the more we'll see God's grace and power flow into and at work in every situation!
God is always supplying by His grace; our part is to let go and let His provision flow.
2. Focus on receiving from the Lord and see worry lose its hold on you
It is not about constantly telling yourself, "Stop worrying!" You cannot psych yourself out of fear and worry and you cannot let not your heart be troubled by your own strength.
The worrying only stops when you know that the Lord is with you and He cares for you (1 Peter 5:7). It becomes easy to let go of your cares and worries, and leave them in HIs hands because you know the One who cares greatly for you is also all-powerful and able to provide for you in every single area of your life.
When we choose to focus on the Lord and His constant supply, we are able to let go of every worry and care, and experience His supply flowing into every area of our lives.
3. Practical ways to receive God's supply
A powerful way we can practically receive God's supply is by partaking of the Lord's Supper.
"The holy Communion is God's delivery system by which every good provision and healing that Christ bought for us at the cross is released into our lives." — Pastor Prince
Just as Melchizedek brought the bread and wine to Abraham (Gen. 14:18 AMPC), every time you partake of the Communion, see Jesus, your heavenly Melchizedek, bringing the bread and the wine to you. See Him bringing provision, health, peace, and success to you.
During this care group, Pastor Josh shared this powerful quote from Pastor Prince, "Many people are guarding their finances, careers, children, health and so on. But the Lord does not want us to guard these things. Instead, He wants us to guard our hearts."
We learned that one of the best ways we can guard our heart is to guard it with what God says in His Word. God's Word is His supply. In it lies all God's promises of provision, healing, and peace and that is why it is vital and crucial to receive and stay in God's Word every single day.
There is power when we meditate on the words of our Lord.
Dive into God's Word and look for the many faith pictures that are found in His Word. Take some time to list them in your journal even as you tell the Lord about the worries and cares that you have.
When you find yourself riddled with fear or worry, begin to speak out His promises over yourself and your family. You can also say this out loud, "Lord Jesus, I choose to put my faith in You and Your finished work. I cannot, but You can. I trust in You. Right now, I choose to let go and release all my worries, fears, stress, and anxieties into Your hands because I know You love me and You care for me."
Questions about this topic
Do you have a question that you would like answered from this care group session? Here are some thoughts from the team that we would like to share.
Isn't it irresponsible for me to not care and to let go of my worries?
Letting go of your worries is not an irresponsible act. In fact, it is the most powerful thing you can do when you let them go into the hands of the One who created the universe! You are acknowledging that you cannot, but He can, and stepping aside so that His supply can flow into every area of your life.
When you choose to allow the Lord to take over, you are making the decision to be still and to let Him be God (Ps. 46:10).
Jesus Himself said in Luke 12:25 AMP, "And which of you by worrying can add one hour to his life's span?" All your worrying cannot change the situation and it cannot add one moment to your life. In fact, it steals many precious moments from you. Moments to enjoy your loved ones. Moments to appreciate the beauty all around you. Moments to be thankful for all the things the Lord has done for you.
When you come to Jesus, you can let go, and trust that He will take care of you and your situation, and He will carry you through.
Today, you can afford to stop worrying and live carefree in the care of your heavenly Father because Jesus has paid the price for your provision and your peace!
I'm in dire need of God's provision. I've prayed about my situation, but nothing seems to be happening. How can I see His provision?
Be strengthened and encouraged to know that your heavenly Father loves you, cares deeply for you, and wants to supply all your needs (Philippians 4:19). Today, you can look to Him for His provision because on the cross, Jesus bore all your sins on His own body and gave you His own righteousness. This righteousness is a gift—it cannot be earned or lost—and knowing that you now stand righteous before God allows you to confidently expect to receive from Him exceedingly abundantly above all you can ask or think (Eph. 3:20).
So as you continue to trust the Lord to provide the breakthrough that you need today, don't focus on your lack. Focus instead on the Lord's love toward you and what He has accomplished for you on the cross. Meditate on how Jesus died poor, not having even a loincloth to cover His modesty, so that today, you "through His poverty might become rich" (2 Cor. 8:9).
And as you do, believe that the Lord is supplying you with wisdom to make wise and sound decisions (James 1:5). See Him surrounding you with His favor (Ps. 5:12) so that the right people and good circumstances are attracted to you. Believe that He is ordering your steps so that you are being brought to a broad place of abundance (Ps. 18:19).
We encourage you to rest in what Christ has already done for you. That is how God's abundant supply comes, and that is how you shall walk in His provision for every need and reign over every circumstance of lack and insufficiency.
How do I partake of the holy Communion? What do I need to prepare?
Besides being born again in Christ, a healthy body and mind are the greatest blessings anyone can have. And the holy Communion is God's ordained channel of healing and wholeness.
The holy Communion is not a ritual to be observed, but a blessing to be received. The Communion is about God's love for you and it is about His power to heal and to deliver you from every disease and sickness.
And because it is not a ritual, there is no one type of bread or special drink that you need to use. Jesus Himself used whatever bread and drink were at the table during the Last Supper.
In fact, the word "communion" is defined as intimate fellowship and when you partake of it, you are in fact, having a time of intimate fellowship with your Savior!
Check out this video where Pastor Prince shares on, and leads us in a time of partaking the holy Communion:
Release God's Healing Power Through The Holy Communion [

video

]
Other resources:
What Was Done in Love for You at the Cross [

video

]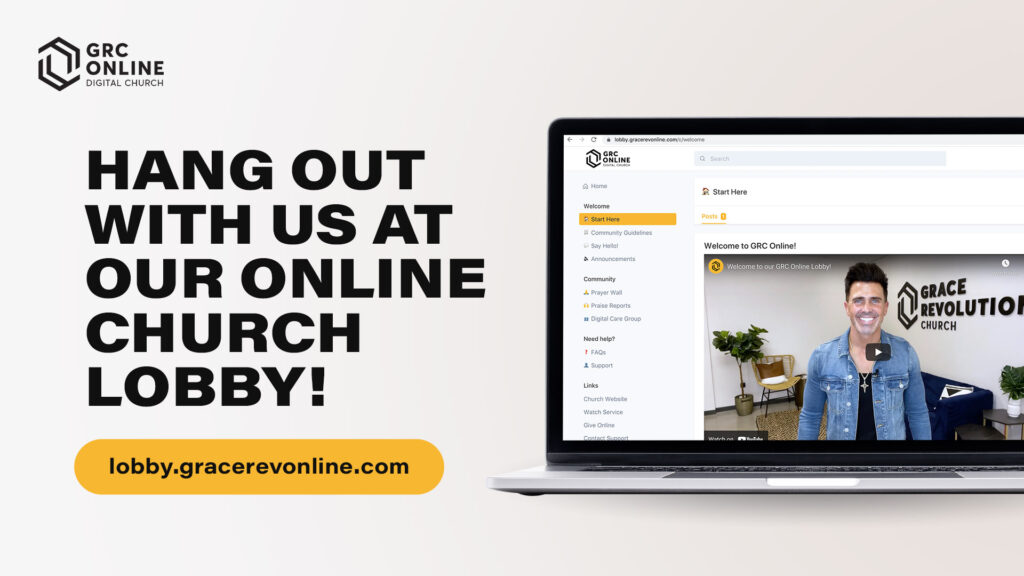 Check out our brand-new community platform where life, conversations, prayer and ministry occur! Interact with fellow grace believers and stay updated on what's happening here at church.
Comments from Facebook & Live Chats

Triana S.
from our Facebook group
I love these digital group sessions! Of the many take-aways available, the ones that stood out to me had to do with the practical, free flowing, non-formulaic ways we can spend quality time with God across the seasons of our lives. Hearing how Pastor Prince and GRC staff have us on their hearts made me feel loved and connected. Thank you pastors for being relatable, for sharing in authentic and humble ways, and for letting us know how you successfully face the same challenges we do! Looking forward to the next digital care group.🙌

Donna S.
from our Facebook group
The digital care group discussion was so practical and helpful. I listened to it twice today and the activities are so very useful for me to put all this into practice. I'm so thankful to both of you (and of course Pastor Prince as well) for doing this!
So glad to be part of GRC and this wonderful care group!!! 🙏😀❤️ So very blessed! The Lord bless you Pastors and your families!! I feel so loved and cared for! There's no distance in the Spirit! I love and pray for all my brothers and sisters in Christ🙏❤️...
We truly feel like we are valuable members of GRC though we are physically distant.
This is awesome, I work two weekends out of the month, as I am not able to get to church. So now I am so blessed to have this gathering in my home.
Thank you for the care group notes, that's really great!! Something we can work on during the week - really appreciated.
GRC online is an answered prayer for me. 🙏🏽 Thank you for a rhema word. Jesus loves me and I'm never alone.