GRC ONLINE DIGITAL CARE GROUP #4
Main idea
In this care group session, our GRCO Pastors, Pastor Josh Holohan and Pastor Darren Sim, talk more about the theme: Reign in Life. 
Take part in this digital care group session on your own or together with your friends and family. Feel free to use this guide to follow the conversation with our pastors, use it for your own personal time of study, or to facilitate more conversations with your community.
This session is based on the book:
Destined to Reign by Pastor Joseph Prince
Haven't read Destined to Reign? If you've been attending GRCO regularly or consider GRCO to be your home church, we want you to have this book for free. Find out more here.
"For if by the one man's offense death reigned through the one, much more those who receive abundance of grace and of the gift of righteousness will reign in life through the One, Jesus Christ." — Romans 5:17
1. God wants you to reign in life!
The Lord's desire is for you to reign in life. He doesn't want you to just survive this life, He wants you to thrive.
The key to reigning in life is receiving the abundance of God's grace and His gift of righteousness.
When you reign in life, you reign over sin. When you reign in life, your addictions don't. When you reign in life, your bad habits cannot dominate you.
The gift of righteousness and no condemnation gives us the freedom to fully enjoy everything that God has given to us through Christ.
2. The more you believe and receive God's grace, the more you will reign
When we receive grace into our hearts and our lives, inside-out transformation takes place, causing us to live a life of victory and success over every manner of defeat and lack. Under the law, our best efforts to change or stop a bad habit will still fall short.
But under grace, our part is to rest and receive all that Jesus' finished work has done for us.
It is grace, not the law, that empowers us to overcome every sin and causes us to experience true transformation that happens from the inside out.
When you know how much you have been forgiven and are loved by God, you will live a life of true holiness.
Say this out loud, "Lord, whatever You have accomplished on the cross, I receive that as my righteousness today. Not because I am good or perfect, but because of Your precious blood that was shed for me."
God's way is not about achieving, but about receiving. Today, you can reign in life through Jesus Christ by receiving two things from Him: the abundance of grace and the gift of righteousness.
Oftentimes, it seems like the only way to break out of a bad habit, addiction or defeat, is to work harder, faster. The world tells you that the more you do, the harder you work, the more success you will achieve. Yet, God's way is not for us to be blessed by our own efforts. God's blessings are based entirely on His grace.
Is there a bad habit, an addiction, or an impossible situation at work or at home that you are struggling with? The solution out of it is not found in you trying harder to break free. 
The answer is in the finished work of Jesus that has made you irrevocably righteous and in receiving a fresh revelation of the abundance of God's grace and His gift of righteousness for you.
In the midst of your struggle, stand tall in what Jesus has accomplished for you at the cross by declaring, "Lord, thank you for making me righteous in You. I am the righteousness of God in Christ. Not because of what I do, but because of what You have done."
When you find that you have no faith to believe, we want to encourage you to keep hearing the preached word of grace. It is the unveiling of Christ in the Scriptures that will impart faith to your heart. The more you hear Jesus unveiled, expounded upon, and pointed to in the Scriptures, the more faith is imparted to your heart that you might believe.
Check out these additional resources:
Questions about Reign in Life
Do you have a question that you would like answered from this care group session? Here are some thoughts from the team that we would like to share.
How does grace bring true transformation and holiness in my life?
God's amazing grace transforms a person's heart and produces true holiness, which isn't just outward, but also deep, intimate, and beginning at the very core of a person's heart. Holiness is a fruit of God's grace.
The word "holiness" in the New Testament is the Greek word "hagiasmos," which is sometimes translated also as "sanctification." The moment you received Jesus as your Lord and Savior, you were justified by faith and made perfectly righteous. You were also made holy or sanctified, which is to be set apart unto the Lord. And as you grow in the grace and knowledge of Jesus, you are progressively transformed into His image from glory to glory (2 Cor. 3:18). Now, you cannot become more righteous because you are already 100 percent righteous by Jesus' blood. But under grace, you can grow in holiness in the way you live your life.
How then, can we stop the power of sin and grow in greater holiness? The answer is found in preaching Jesus and the gospel of grace. Under grace, when you experience the love of our Lord Jesus, you will end up fulfilling the law (Rom. 13:10) and being holy! Grace produces true holiness.
When the love of Jesus is in you, you can't help but fulfill the law. When your heart is overflowing with God's grace and loving-kindness, you will have no desire to commit adultery, lie, or covet. You will have the power to love your neighbor as yourself. Where does this power come from? From your being firmly rooted and established in the grace of God. You have the power to love, because He first loved you (1 John 4:19 NASB)!
Ultimately, this journey with God is all about His love for you. It is His love for and in you that results in inward heart transformation. First experience and taste the grace of God and His love will surely cause you to live a holy life!
But isn't overcoming sin all about having the willpower to do the right thing and atoning for my wrongs?
Many believers, in their zeal for God or their pride, are trying to please God and become righteous through trying to keep the law. They don't understand that God makes a person righteous solely by grace through faith. They reject God's way and cling to what they think makes them righteous—their obedience to God's laws. Yet the irony of it all is that in trying to keep God's laws to be righteous, people might end up producing works of the flesh such as adultery, fornication, hatred, heresies, and drunkenness (Gal. 5:18–21). Why? Because "the strength of sin is the law" (1 Cor. 15:56). The law stirs up the sinful passions within our flesh.
In truth, your willpower is no match for sin. The more you try to say no by your own efforts, the worse it becomes. The apostle Paul describes this struggle, which he himself experienced: "I want to do what is good, but I don't. I don't want to do what is wrong, but I do it anyway." (Rom. 7:19 NLT). So the answer is not to depend on your willpower to say no to temptation, but to depend on God's grace and say yes to Jesus!
The more you grow in grace—the more you are washed, again and again, by the water of the Word of God's grace—the more you grow effortlessly in sanctification and holiness, and the more you allow the Holy Spirit to correct habits and thinking that keep you in bondage. When you experience the grace of our Lord Jesus, the allure and passing pleasures of sin fade in the light of His glory and grace.
Does grace give us the license to sin?
Grace is the power of God to overcome every sin. God's Word states that "sin shall not have dominion over you, for you are not under law but under grace" (Rom. 6:14). No one can use God's grace to justify his or her sin. It is contrary to God's Word and contrary to the gospel of grace. A person cannot claim to be under grace when he/she continues to live in sin because true grace swallows up the destructive powers of sin and ALWAYS results in victory over sin. The only way to help people overcome the powers of sin is to preach them into God's grace. We believe that truly born-again believers are not looking for an excuse to sin. How can they, if they have been impacted by Jesus' love and sacrifice? Rather, they are looking for a way out of sin and out of the prison of fear, guilt, and condemnation. We have received so many testimonies from people who have been set free from all kinds of sins and addictions, including pornography, alcoholism, drugs, and sexual immorality. Today they are so in love with Jesus and so filled with His peace and life that they begin to lose the desire to dabble in self-destructive behaviors. Through the power of our Lord Jesus, sin no longer dominates people and true repentance occurs when the gospel of grace is preached! Check out this sermon snippet from Pastor Prince: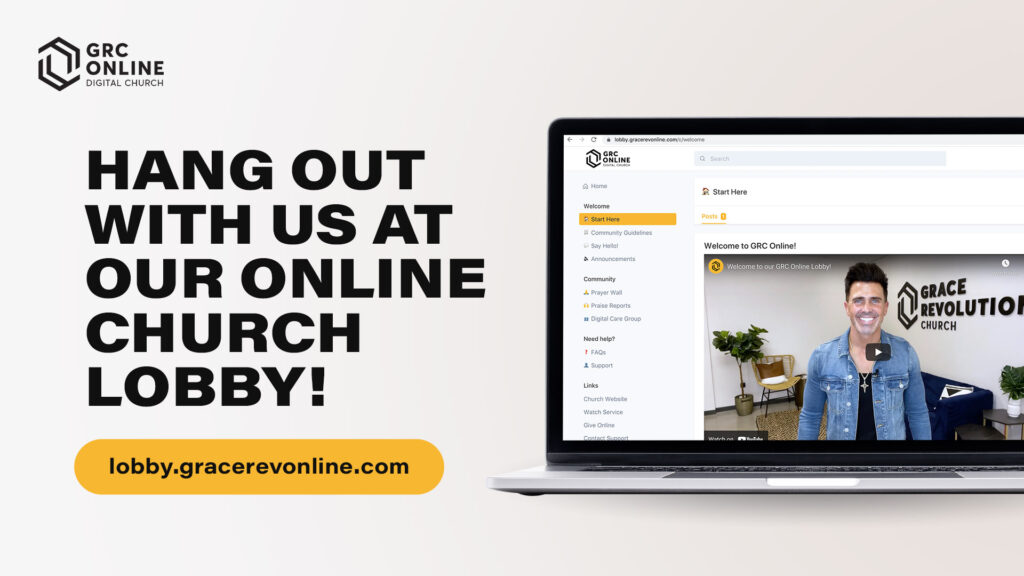 Check out our brand-new community platform where life, conversations, prayer and ministry occur! Interact with fellow grace believers and stay updated on what's happening here at church.
Comments from Facebook & Live Chats

Triana S.
from our Facebook group
I love these digital group sessions! Of the many take-aways available, the ones that stood out to me had to do with the practical, free flowing, non-formulaic ways we can spend quality time with God across the seasons of our lives. Hearing how Pastor Prince and GRC staff have us on their hearts made me feel loved and connected. Thank you pastors for being relatable, for sharing in authentic and humble ways, and for letting us know how you successfully face the same challenges we do! Looking forward to the next digital care group.🙌

Donna S.
from our Facebook group
The digital care group discussion was so practical and helpful. I listened to it twice today and the activities are so very useful for me to put all this into practice. I'm so thankful to both of you (and of course Pastor Prince as well) for doing this!
So glad to be part of GRC and this wonderful care group!!! 🙏😀❤️ So very blessed! The Lord bless you Pastors and your families!! I feel so loved and cared for! There's no distance in the Spirit! I love and pray for all my brothers and sisters in Christ🙏❤️...
We truly feel like we are valuable members of GRC though we are physically distant.
This is awesome, I work two weekends out of the month, as I am not able to get to church. So now I am so blessed to have this gathering in my home.
Thank you for the care group notes, that's really great!! Something we can work on during the week - really appreciated.
GRC online is an answered prayer for me. 🙏🏽 Thank you for a rhema word. Jesus loves me and I'm never alone.