GRC ONLINE DIGITAL CARE GROUP #3
Days of Heaven Upon the Earth
Main idea
Do you know that your heavenly Father wants you to enjoy many days of heaven on earth? But what does that look like? And how can we begin to experience days of heaven on earth right now? Grab your Bible and journal, and join the conversation as our GRCO pastors break down these questions and share more from their personal journeys.
Take part in this digital care group session on your own or together with your friends and family. We have specially created a guide that you can easily follow along as you join in the conversation with our pastors, use for your own personal time of study, or use to facilitate more conversations with your community.
This session is based on the messages:
Joseph Prince—How To See Many Beautiful Days (27 Dec 2020) [Sermon Notes]
Joseph Prince—Christ Is The Center of Happy Marriages—How To Have Days Of Heaven On Earth
1. God's hazon vision for you this year is to enjoy many beautiful days of heaven upon the earth
"He who would love life and see good days, let him refrain his tongue from evil, and his lips from speaking deceit."
– 1 Peter 3:10
It is biblical to believe God for many good and beautiful days for you and your family!
Regardless of whatever experience you've had in 2021 thus far, you can exercise your faith to believe God for many good days.
2. How does the Lord define a beautiful day?
How would you describe a beautiful day? Is it a fun day at the beach with your family? Taking a scenic walk into the sunset with your wife or husband? 
Here's how the Lord defines it:
"That your days may be multiplied, and the days of your children, in the land which the Lord sware unto your fathers to give them, as the days of heaven upon the earth."
— Deuteronomy 11:21 KJV
God relates days of heaven upon the earth with family life and enjoying life within your home! He cares about your family life, the relationships, and the moments you enjoy with them.
Contrary to what the world says, you won't enjoy days of heaven upon the earth when you finally get that job promotion, that new car, or that new home—great as those things may be. The Lord wants you to be able to enjoy the abundant life that He came to give you (John 10:10) right now with your family. He wants you to enjoy a life that goes beyond material blessings.
Familial blessings outlast any other material blessings we can enjoy in this life.
3. How can you experience days of heaven upon the earth with your family?
"Therefore you shall lay up these words of mine in your heart and in your soul, and bind them as a sign on your hand, and they shall be as frontlets between your eyes. You shall teach them to your children, speaking of them when you sit in your house, when you walk by the way, when you lie down, and when you rise up. And you shall write them on the doorposts of your house and on your gates."
— Deuteronomy 11:18–20 KJV
In the Hebrew, the verse reads as such, וְשַׂמְתֶּם אֶת־דְּבָרַי. In the middle of the verse, we find the signature of Jesus, the Hebrew letters, "aleph tav" (אֶת). What words are we to lay up and to teach to our children? Not words of the law but words about the Word of God made flesh, Jesus Christ Himself (John 1:14), about His beauty, His loveliness, and His finished work.
It is when we involve the Lord Himself in our daily family life that we begin to experience days of heaven upon the earth.
But what if our present situation looks completely different from what God has promised in His Word?
Don't give up! Begin to sow God's Word and His promises for your family by faith. The way God imparts faith to walk out His promises is to give you a picture, and He has already put His pictures of your successes, your victories, and your breakthroughs in His Word.
Activity time!
Grab a piece of paper and some pens/markers/coloring materials
Begin by drawing some clouds at the top
Draw a house at the bottom
Fill the house with the different members of your household
Label the clouds with the different blessings found in God's Word (i.e. Peace, Health, Joy, Favor). You can also find whatever promise you're believing God for—for your family—in the Scriptures and write them in the clouds
See Jesus, the Word and the promises of God Himself, pouring out His promises of health, restoration, provision, joy and peace upon you and your family.
There are no fixed formulas and methods for involving Jesus in your daily life as a family and what works for some people may not work for others. Let the Holy Spirit guide and inspire you to do what works best for your family and most importantly, enjoy the time together as a family in His presence!
This week, spend some time with the Lord and enjoy His fellowship. Take time to be rested in His Word of love for you and allow the Lord to fill you to the overflow with His love and peace. After that, take time to enjoy the relationships that God has placed in your life! When you are filled, it becomes easy to be led by His love to impart grace to your loved ones.
Questions about Days of Heaven Upon the Earth
Do you have a question that you would like answered from this care group session? Here are some thoughts from the team that we would like to share.
I think the relationship between my spouse/family member and I is irreparable because there has been too much hurt and anger over the years. Is there still hope for us?
No matter how hopeless a situation seems, we want to remind you that our God is a God of miracles. Not only can God heal and restore your relationship with your spouse or family member, He can do a miracle of restoration, even when it seems impossible (see Isa. 43:19)! Just as Jesus turned water to wine at the wedding in Cana (see John 2:1–11), He can turn a relationship that is distant, hopeless, and full of hurts to one that is intimate and full of love, shalom peace, and joy. He can give you a new, intoxicating marriage, causing you both to fall in love with each other all over again.

As you place your relationship into God's hands and trust that it's important to Him, know that He is already working behind the scenes to heal hurts, soften hearts and pour forth His unconditional love. Though restoration is a journey that takes time, you can rest in His love, knowing that He is working all things together for your good (see Rom. 8:28) because He cares for you and your family. We are standing in faith with you that in time, there will surely be a breakthrough and miracle restoration in your family!
The rift in our relationship was caused by my spouse/family member and he/she refuses to apologise or reconcile with me. How can I restore this relationship?
We know it can be difficult when you've been hurt and it feels like you're the only one making the effort to restore the relationship. When it comes to matters of the heart, we are unable to change how a person feels or responds. However, Jesus can heal the hurts that others don't even know about, minister to personal issues and fears, and soften even the hardest heart. As He comes into the situation, He can mend and heal what we cannot.

Today, would you make a decision to forgive this family member who has hurt you? Forgiveness is the foundation of love. Just as God does not impute sin to us, let us not impute sin to our spouse or family members. If you find it difficult to forgive this person, look to the cross and see how perfectly God has forgiven every sin you have and will ever commit. Bring Jesus into your painful situation. When you know how perfectly He loves you and has forgiven you, you'll be able to forgive that person too.

As you release this person in forgiveness, it allows the Lord's love and healing to flow into your heart and the situation. You can also trust the Holy Spirit to lead you in your interactions with the person, helping you to communicate with and love them in the best way. And as you give the family member time and space to walk his or her own journey with the Lord, know that He can work in a seemingly hopeless situation and bring a miracle in the relationship!
I have been praying for the restoration of my marriage/family relationships for many years but there is still no change. What should I do?
Many times when we pray for a restoration, it may not take place immediately, much like physical healing. Though some may experience instant miracles of restorations, for others it could be a gradual process. However, don't let this discourage you. God says in His Word that He will supernaturally restore all the years that have been lost to the locust (see Joel 2:25). Because our Lord Jesus has purchased every blessing, including restoration, for you at the cross, you can believe God to redeem all the time that has been lost, and for the restored relationship to be even stronger and closer than before.

As you commit the relationship to Jesus and continue to declare peace and restoration over it, trust that the seed of God's Word has been sown and will bear fruit in due time. Just as a farmer waits patiently for his crops to bear fruit, be patient in waiting for your harvest (James 5:7). Your breakthrough may come incrementally—first thirtyfold, then sixtyfold, then a hundredfold. Your part is simply to rest in His love, have faith in the power of God's Word, and let Him work on your behalf.
My family members are not saved—how can I share with them about Jesus and restoration for our relationship if they don't believe in Him?
Even if your family members are not saved, this does not stop them from experiencing the love and power of Jesus. In the Bible, Jesus never called people out for their sin or expected them to set their lives straight before He healed them. In fact, once the people experienced the healing power of Jesus, the goodness of God often led them to repentance (see 2 Cor. 5:19, Mark 6:56).

The Lord wants not only you to be saved, but your family members as well. The good news is that now that you have been saved, it becomes easy for them to be saved because there is now an open door for God to move in their lives and touch them. As you allow the Lord to use you as a channel of His love, shalom peace, and power to your family in your daily life, in time they will not be able to help but be impacted by Him.

Another way that you can bring Jesus into the situation is to look at your family through the eyes of love —the way God would view them. Instead of seeing the flaws and problems in them and the relationship, focus on how the Lord sees them—as His beloved children and precious sheep in His flock that He lovingly tends. Call forth what the Lord sees in them and the kind of relationship you desire to have with them. As you do this, know that the Lord is loving on them through you, restoring the relationships and drawing them to Himself as well.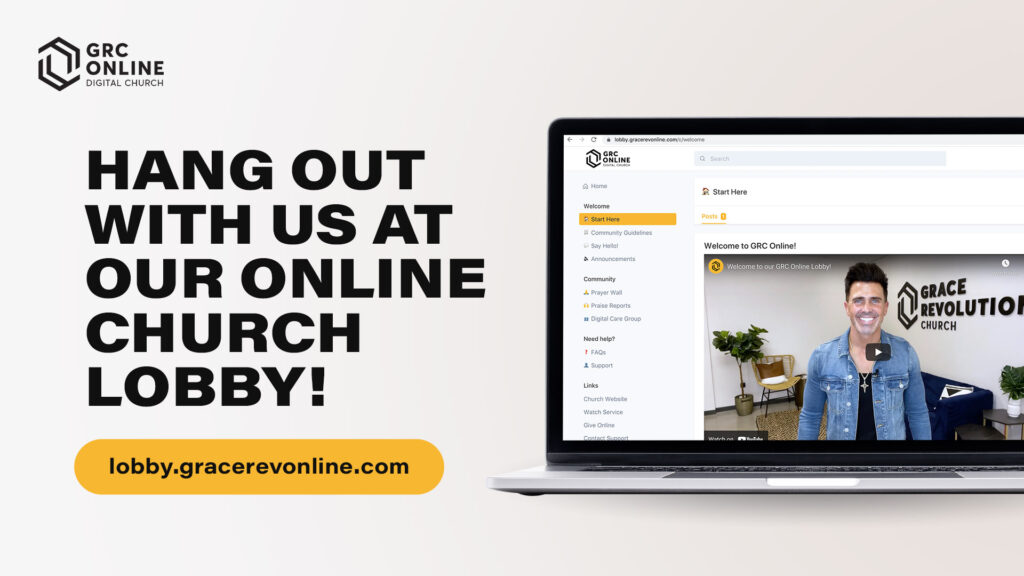 Check out our brand-new community platform where life, conversations, prayer and ministry occur! Interact with fellow grace believers and stay updated on what's happening here at church.
Comments from Facebook & Live Chats
I love the fact that I can take GRC online with me from city to city. My work is moving me from Augusta GA to Ogden UT. Very glad, I will not miss church
I love that we can connect in this way when we cannot connect physically at this moment. Thank you for such encouragement. So much needed.
This is my first time participating with this group. I listen to Pastor Prince off & on for several months & it always blesses me. This time I havebeen experiencing terrible headaches & other health issues that have caused me to be very discouraged. My faith in the provisions that Jesus accomplished for us has grown dim. This message & being part of this group right now is really encouraging me!
C. Chestnut
from Live Chat
Pastor Darren was praying for God's tangible presence to touch those who felt lonely and isolated. Jesus tangibly let me feel his amazing presence then. Thank you Jesus! Pastor Darren thank you.