GRC ONLINE DIGITAL CARE GROUP #2
Main idea
In this care group session, our Pastoral Overseer, Pastor Darren Sim, and our GRCO Pastor, Pastor Josh Holohan, talk more about the theme: Seeing Jesus. What is the greatest hazon vision God wants us to have this year? What does an intimate relationship with the Lord look like? Grab your Bible and journal and join the conversation as our GRCO pastors break down these questions and share more about their personal journeys.
Feel free to take part in this digital care group session on your own or together with your friends and family. We have specially created a guide that you can easily follow along as you join in the conversation with our pastors, use for your own personal time of study, or use to facilitate more conversations with your friends and family.
This session is based on the messages:
Joseph Prince—Position Yourself to Receive His Hazon Vision (10 Jan 2021) [Sermon Notes]
Joseph Prince—Answers for a Distracted World (7 Feb 2021) [Sermon Notes]
1. What distracts us from seeing Jesus?
In our daily lives, there are many things demanding our attention. Take a moment to think about the things that take up most of your time in a day:
Text messages

Emails

Television (Netflix, YouTube)

Mobile/Computer games

Social Media

News

Overwhelming to-do lists
What are your top three? The typical social media user now spends 2 hours and 25 minutes on social media each day [source] and in 2020, Americans spent 4 hours on their phones daily [source]. While these things are not inherently bad, being addicted to them is destructive.
The greatest joy that our distractions rob from us is the opportunity to see Jesus, to be intimate with Him, and to spend time with Him.
2. What does an intimate relationship with Jesus look like?
"Therefore I also, after I heard of your faith in the Lord Jesus and your love for all the saints, do not cease to give thanks for you, making mention of you in my prayers: that the God of our Lord Jesus Christ, the Father of glory, may give to you the spirit of wisdom and revelation in the knowledge of Him," —Ephesians 1:15–17
The spirit of wisdom and revelation is found in the knowledge of Jesus. This knowledge is not knowledge that you acquire from reading books about Jesus; it is first-hand, personal knowledge and revelation of the Lord and His goodness.
The greatest knowledge you can have is to know Jesus.
This year, have a hazon vision (godly vision) of how an intimate relationship with Jesus can look like. Sometimes the best way to move away from a realm of distractions is to be enamored with something or Someone who is far more beautiful and life-transforming than all the things we can get distracted with—our Lord Jesus.
But it first begins from a place of right believing. Take some time to think about these three questions, whether with your group or in your own time of reflection.
1. Do you believe that Jesus cares for you?
What His Word says: "casting all your care upon Him, for He cares for you." 1 Peter 5:7
2. Do you believe that Jesus is near and close to you?
What His Word says: "But now in Christ Jesus you who once were far off have been brought near by the blood of Christ." Ephesians 2:13
3. Do you believe that you have direct access to His throne of grace?
What His Word says: "Let us therefore come boldly to the throne of grace, that we may obtain mercy and find grace to help in time of need." Hebrews 4:16
When you believe right about your Savior, you will begin to walk in the fullness of an intimate relationship with Him.
3. What are some practical tips to spend time with Jesus in your daily life?
There is no one formulaic way of spending time with Jesus. Here are just a few ways you can start to involve Jesus in your everyday life:
Listening to a sermon

Journaling

Going on walks with Jesus

Talking to Jesus on your daily commute to work
As you journal to the Lord, you are giving space to the Lord for Him to speak to you.
Check your weekly screen time report on your phone. Does your total screen time surprise you? Our pastors talked about what distracts them from spending time with the Lord and the truth is, we all struggle with different distractions in our lives. One way to move away from these distractions is to refocus and prioritize on the One who is far more beautiful and captivating than all these distractions
Spending time with the Lord
This week, be intentional about carving out pockets of time in your day to be with the Lord—whether it's setting aside some time in the day or evening to meditate on a scripture verse from God's Word, listening to a sermon, going for a short walk around the block, or journaling.
Here are some resources to help you get started:
Pick a verse that is relevant to your situation right now and meditate on it. Write down in your journal or notes app the nuggets you've received from meditating on it throughout the week!
Looking for a sermon to listen to? Check out these 20-minute sermon snippets on the Joseph Prince Ministries YouTube channel or get the Joseph Prince app here
Journal your responses to the three questions Pastor Darren posed to all of us during the care group. Begin to list down different examples of 1) Jesus caring for you, 2) Jesus being near and close to you, and 3) Jesus answering a need that you came to Him for.
As you spend time daily in His presence and behold the beauty and glory of Jesus, there is no way you will not be gloriously transformed as well!
Questions about Seeing Jesus
For this digital care group session on Seeing Jesus, we have received some questions from our members. Here are our thoughts on Seeing Jesus that our team would like to share with you. 
I spend a lot of time reading the Word and praying but I still don't feel close to the Lord. How can I experience the intimacy that you talk about in this session?
It's easy to see spending time with Jesus as an item on our to-do list to be checked off daily or the mark of a "good Christian" that we should all aspire to achieve. However, having the right beliefs is important as misconceptions about Jesus can hinder us from having an intimate relationship with Him.
How we see Jesus affects our relationship with Him because fear and love cannot coexist in a healthy relationship. If deep down in your heart you feel like a hypocrite or as though you are always treading on eggshells when it comes to your walk with the Lord, perhaps this is hindering you from drawing close to Him.
Jesus is neither a stern judge waiting to condemn you whenever you make a mistake, nor Someone far away whom only pastors or certain special people can draw close to. He is your Savior, Friend, and your ever-present help in times of need. He longs to have a deep and personal relationship with you, just like any of your relationships with your loved ones.
This is the reason that He went to the cross for you, so that nothing could stand between you and Him—not even sin, fear, condemnation or death (see 2 Cor. 5:21). Receiving salvation is just the beginning of your journey with Him. What He truly wants is to know you intimately and to do life together with you each day. When you know Jesus as a Person, you'll understand His heart for you and appreciate Him even more. And as you receive His unconditional love and finished work, every area of your life will begin to experience His grace and life-giving power!
Check out these sermon snippets from Pastor Prince:
I've tried many times to spend more time with Jesus but it's very difficult to make time for it in my daily life. How can I do it?
There are so many distractions around us vying for our time and attention and causing us to be drawn away from spending time with the Lord. Often, getting carried away with these distractions can cause us to feel condemned or drive us to put in more effort to be disciplined in our habits. However, sometimes the best way to overcome distraction is simply to be enamored with something far more beautiful and life-transforming than the distractions around us—the Person of Jesus.
Even when you haven't spent time with Jesus recently, He doesn't condemn you (see Rom 8:1) and is always close to you (see Acts 17:27–28). There is nothing that can separate you from Him or His love (see Rom. 8:38–39). Why not take some moments to talk to Jesus during your day, perhaps while journaling, worshipping, taking a walk, doing housework, or driving? As you spend time with Him, see Him near to you, pursuing you just like the Shepherd leaving His flock to look for the one sheep that has wandered off (see Matt. 18:12–13).
Just talk to Jesus as you would talk to a friend over coffee! You can thank Him for something good that has happened recently or share about whatever is troubling you. As you read the Bible or listen to a sermon, you can ask what He is impressing on your heart from the Word today and talk to Him about it. You can be real and honest with Him. Jesus is not afraid of your weakness or mistakes!
As you behold Jesus' beauty, loveliness, and His extravagant love for you, you can't help but fall in love with Him more and more. Spending time with Him will bring you joy and become something you look forward to each day!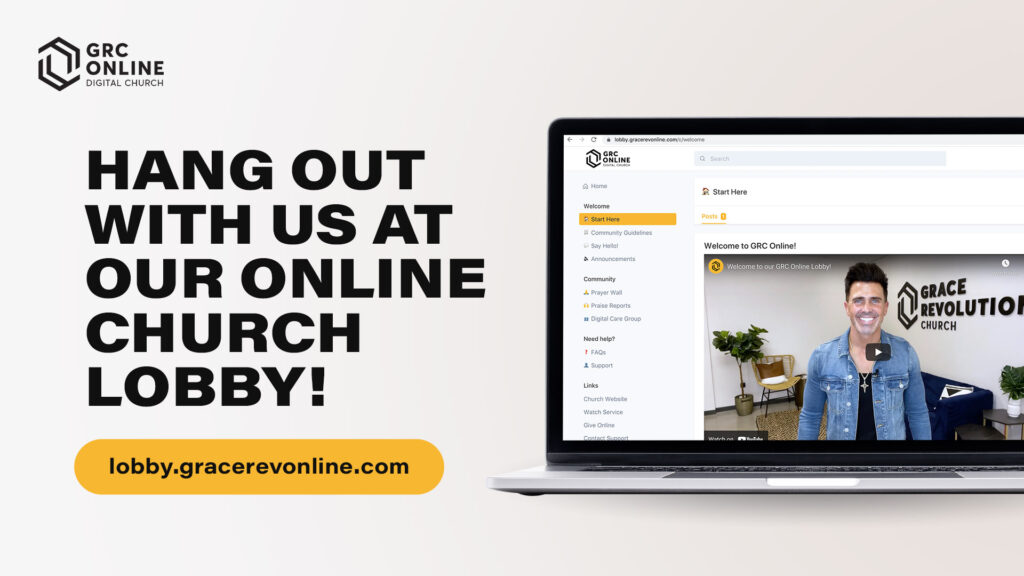 Check out our brand-new community platform where life, conversations, prayer and ministry occur! Interact with fellow grace believers and stay updated on what's happening here at church.
Comments from Facebook & Live Chats

Triana S.
from our Facebook group
I love these digital group sessions! Of the many take-aways available, the ones that stood out to me had to do with the practical, free flowing, non-formulaic ways we can spend quality time with God across the seasons of our lives. Hearing how Pastor Prince and GRC staff have us on their hearts made me feel loved and connected. Thank you pastors for being relatable, for sharing in authentic and humble ways, and for letting us know how you successfully face the same challenges we do! Looking forward to the next digital care group.🙌

Donna S.
from our Facebook group
The digital care group discussion was so practical and helpful. I listened to it twice today and the activities are so very useful for me to put all this into practice. I'm so thankful to both of you (and of course Pastor Prince as well) for doing this!
So glad to be part of GRC and this wonderful care group!!! 🙏😀❤️ So very blessed! The Lord bless you Pastors and your families!! I feel so loved and cared for! There's no distance in the Spirit! I love and pray for all my brothers and sisters in Christ🙏❤️...
We truly feel like we are valuable members of GRC though we are physically distant.
This is awesome, I work two weekends out of the month, as I am not able to get to church. So now I am so blessed to have this gathering in my home.
Thank you for the care group notes, that's really great!! Something we can work on during the week - really appreciated.
GRC online is an answered prayer for me. 🙏🏽 Thank you for a rhema word. Jesus loves me and I'm never alone.